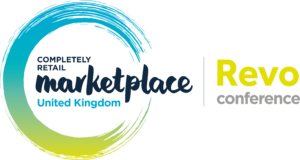 Completely Retail Marketplace & Revo Conference is where brands come to meet a diverse range of retail & leisure property professionals, discuss the market and find opportunities to start-up and expand their businesses. No event goes further to support the UK retail market!
What is it about?
Simple –  forging connections. The event offers an affordable environment created for retail professionals and most importantly, retail and leisure brands, where opportunities are shared and insight about the market is exchanged.
The Revo half-day conference has been designed to recognise the importance of providing leading insight, sharing knowledge and debating trends, and will explore human-centric placemaking. The conference will be open to Revo's full membership and the wider retail property community with a specially priced conference pass. The CRMP delegation will also be able to attend the Revo conference as part of the wider event.
Revo Conference
Host: Ibrahim Ibrahim, Managing Director, Portland Design
Conference Title: Human-Centric Placemaking
Conference Synopsis: Putting citizens and communities at the centre of placemaking and how we can create an authentic 'spirit of place' and true sense of belonging
Session One: The Power of Localism
Session Two: Generation C: The Enigma that is the Centennial Generation brought to you by RevoHub
Session Three: Delivering and Funding the Future
Proudly Sponsored By
TICKETS
PFM
The PFM Intelligence Group is an organisation with several disciplines and a wide variety of clients all with the focus on creating actionable data insights that translate into business performance improvements.
It all started in 1982, when FLUCON was founded in the Netherlands. What began with measuring oil and water soon developed into a technology and communications company. Working directly with clients across a range of sectors we offer a highly experienced team to design, procure and manage the implementation of ICT, Audio Visual and Intelligent Building technology. Throughout the years we added offices in several countries and collaborated with partners in order to expand our business globally.
On January 22nd PFM acquired CoreTech Solutions, the market leading IT infrastructure provider to the UK retail property sector. With this deal PFM becomes a a significant player in integrated technology systems, focusing on complex consumer data insights to create business critical market intelligence that helps clients navigate the challenges of the retail and infrastructure sector.
Hollis
We're international, independent real estate consultants. We work with owners, occupiers, developers and funders to help them get more out of their real estate.
We're surveyors, engineers, technical specialists, consultants and project managers, proud to be picked from the best in our fields. We're a Europe-wide network with a global outlook. We are experts, innovators and influencers across the entire sector, ready to support you at every stage of the property cycle.
We know from experience that every client is different and every brief unique. We're all different too. And by combining our diverse expertise with a tenacious team spirit we find a way, whatever the challenge. So what are your priorities? Do you own, occupy, develop or fund real estate? Are you public or private sector? Wherever there's potential to get more from your real estate, we can help.